Charlie's Angels 2: The Sequel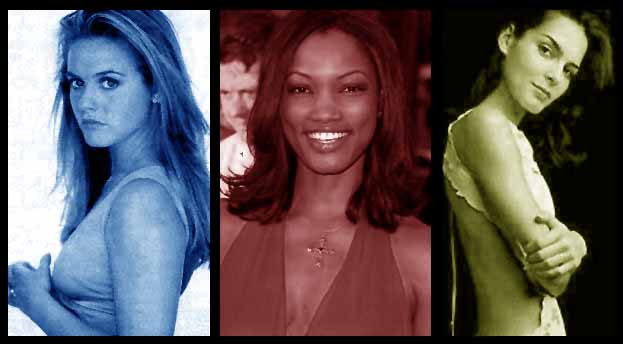 If you can remember back to the planning stages of the first big screen adaptation of Charlie's Angels then you will already be prepared for all of the rumors that come with the movie. These rumors have already started for the sequel. None of the things I am putting on this page right now are official...they are rumors that I have heard so far.
Rumor #1- Cameron, sporting a new short brunette do, would be joined by Alicia Silverstone (above left) and Angie Harmon (above right) as Charlie's Sequel Angels. But this rumor has already proven itself to be untrue because many new articles found on the Internet state that Cameron has voiced her desire to retire her halo. And Rumor #2 is that Angie Harmon returned the script...meaning that she didn't want the part. Rumor # 3- Several articles say that the three original movie angels will all be asking for too much money and that 3 new actresses will be brought in as Angels. Rumor #4- Garcelle Beauvais (above center) will be taking Cameron's place on the team. It is still unknown if Drew and Lucy will return. Rumor #5- Bill Murray wont be returning for the sequel. Rumor #6- Drew will only be directing.
I love to catch word of these rumors...but you cant believe any of them until the actual filming begins. This was proved in the planning stages of the first film. Several actresses such as Halle Berry, Catherine Zeta-Jones, Liv Tyler, Jenny McCarthy, Jada Pinkett, Angelina Jolie, Angie Harmon, Victoria Adams, Geri Halliwell, Lauryn Hill, and Michelle Yeoh were all mentioned as being Drew and Cameron's possible third Angel. Then the duo thought they finally found they're remaining member in Thandie Newton and she had to quit just before shooting started. So Lucy Liu was promoted from bad girl status to Angel status. So if history repeats itself...then the names being mentioned cannot truly be believed until an official announced is made. My personal favorite trio for the sequel would have to be Alicia Silverstone, Thandie Newton, and Angie Harmon.
Alicia has already proven that she can kick butt in Batman Forever, in which she played Batgirl. Her secret identity was Barbara Gordon, a catholic school bad-girl. Move over Britney Spears because I think Alicia would be great in another role like that. She has often played rich girls with a taste for the bad side and I think she could definitely fill in the space left by Drew's hellcat Angel...if she doesnt return that is.
And after seeing Thandie Newton in Mission Impossible 2...there's not a doubt in my mind that she could be incredible in this role. She held her own against Tom Cruise, a vengeful ex-boyfriend, and a mob of terrorists.
Angie Harmon should be cast for, if no other reason, her looks. She looks exactly like a mix between Jaclyn Smith and Kate Jackson. She even has a scruffy voice like Kate!!! She can be very professional as she has proven with her role on Law & Order as Attorney Abigail Carmichael.
If you hear any new rumors about the Charlie's Angels sequel then please please email me at : marcusm25@hotmail.com. And be sure to tell me who you think would make good angels for the new movie. I love to get others' input. Or if you have any questions/comments about this page or my site in general then feel free to send me an e-mail.